Hi-End Fitness Nutrition & Personal Training Burlington
Do you want to lose some weight?
Would you like to tone up?
Would you like to look and feel better about yourself?
Getting back to your best self really means getting into a sustainable lifestyle. It means creating an ideal personal training program for yourself. Something you can repeat daily and maintain long term. Something that you love. Who has time to sift through the mountain of Personal training and Nutrition information?  What you really need from your personal trainer are systems and methods to create succes. At Hi-End Fitness we have been professional Personal Trainers our entire lives. We understand that you want to create change and that you want to do it fast!  We have the tools that you need change your body and your life now!
PERSONAL TRAINING
We all need people in our lives to help us move forward. All the most successful people in the world surround themselves with successful people. We believe your personal trainer needs to walk the walk of success and healthy living. That is the life that we live and help you to emulate in your life. This time get more that just a personal trainer. Get yourself around a coach. Someone that will help you to see the value of nutrition and exercise in your entire life. When you see that your workouts and your nutrition are going to increase your energy, improve your self esteme, reduce your fat and tone up your body it will be easy to stick with it. When you love your 30 minute personal training workouts that fit into your busy life it won't be a chore to go to the gym anymore. When you see that your exercise and nutrition program is really improving the quality of your relationships, your career, improving your finances, and changing your energy and outlook on your entire life it will become your new healthy lifestyle. All you need to do is show up for your workouts 2-4 times each week and let us take care of the rest!  Let us keep you motivated, hold you accountable, arrange all your workouts, and keep you inspired and having fun all week long!
NUTRITION
With all our years of Personal Training experience we realize that most challenging part of creating success with your goals is the nutrition component. Let us take all the confusion out of your nutrition for you. We start all of our clients off with our Rapid Fat-loss Nutrition and Personal training program. This is how we hold you accountable to your food. This is how we see what is currently going on with your nutrition and clearly outline to you what you need to do to start losing weight fast. We will weigh you and measure you. We will calculate your body fat and we will use that personal information to create your personalized nutrition plan. We will take all of the guess work out of your nutrition plan. We will help you create a sustainable nutrition plan. One that gives you energy, nourishes and alkalizes your body and helps you get your body and energy back fast! After the first 30 days of Rapid Fat-loss nutrition we will move to our detoxification nutrition program and finish you off with our lifestyle nutrition program to create your customized nutrition plan over the first 90 days. Lose weight and tone up fast when you combine Personal training, nutrition and Motivation to change your life!
YOUR TOTAL FINESS AND WELLNESS LIFESTYLE
It doesn't make any sense losing weight only to gain it all back again. The secret to losing it and keeping it off forever is really changing your lifestyle. It needs to be something you love. It needs to be easy to do. It needs to be fast. It needs to be personal training and nutrition program that fits into your life or you will never stick with it. If you don't like it you will never stick with it. Since both Dora and I have been trainers for over 20 years each we understand the challenges of fitting fitness into your lifestyle. Dora and I have 3 kids and we run our busy Personal Training business from our home base right here in Burlington. We've created a lifestyle that we live ourselves. We have organzied everything that you need for you. We've laid it all out and we've made it fun. Stop messing around with your fitness and wellness. Hire more than just personal trainers. Pull your nutrition, your exercise and your mindset together to create real change. Hire a couple of coaches that will help you remodel your entire lives!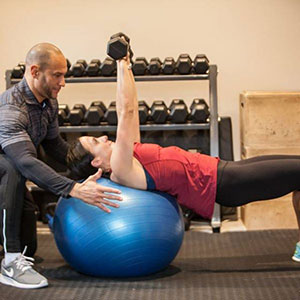 GET REGISTERED BELOW FOR A FREE TRANSFORMATION SESSION
Sign up below to arrange a free trial session. We want to have a little discussion with you. We want to know what's blocked you from success in the past. We want to know what's been stopping you from doing it right now. We want to talk about what you want to create with your body and your life over the next 90 days, 180 days or even the next 365 days!
Let's arrage some time to talk. First on the phone. That way we can arrange a convenient time for both of us. A time that's ideal for you to come in for a trial session. We want you to test drive our program. We want you to see if you like it. We want you to know if our systems and methods are a fit for you and your lifestyle. We also want to evaluate your current level of fitness and discover your current limitations.
We like to do all of this is a Free Transformation Session. Let's spend some time talking. Let's do a trial workout. Let's talk about a realistic plan and see if you like it. Get registered for a free trial Transformation session below!