Resources
Top 13 Things You Can Do Right Now To Start Losing Weight Fast!
Here is a real quick reference check list for you. Do any of these top13 things as much as you can as fast as you can to lose weight as soon as possible! If you'd like to discuss any of the following items I would love to arrange a short telephone conversation. Just send me a personal email: john@hiendfitness.com and let me know any questions you may have about this list. You can text me here: 905-512-5421 or you can regsiter for a free trial session at the bottom of this page!
"…ONLY A LUNATIC WILL DRINK UNSTERILIZED WATER." — Nikola Tesla, when asked about his predictions for the next 100 years in an article appearing in Liberty magazine, February 9th, 1935
STOP drinking tap water! Do not drink flouridated water. Do not drink mineral water. Do not drink spring water.
Reduce to absolute minimum as quickly as you can any animal protein products what so ever! Minimize or eliminate meat & dairy.
STOP ingesting any vitmain or mineral products.

Brandi lost 27 pounds in 12 weeks so can you!

There is no doubt as to THE HIGH VALUE OF DISTILLED WATER USED FREELY as a retarder of the ossifying conditions which appear to constitute the condition of old age."
— Dr. C.W. DeLacy Evans, M.D., from How To Prolong Life

STOP any fat burners, Omega 3 fat products and protein powders.
Reduce to minimal or eliminate grains, cereals, breads
Reduce to minimal cooked foods and starches.
Water has to be pure, free from fluoride, chlorine, and chemicals, which is why I recommend distilled water. To achieve optimum health, I recommend that you DRINK A HALF GALLON TO ONE FULL GALLON PER DAY." — Dr. Gary Null, Ph.D., from, "Gary Null's Ultimate Anti-Aging Program," Kensington Publishing Corp., 1999, Based on the PBS Documentary, "How to Live Forever"
Reduce to minimal and eliminate ASAP or use as sparingly as possible any prescription drugs, stimulants, depresants, caffein products, alcohol, pain killers, antibiotics. Use ONLY natural plant based herbs and products for detoxification and healing purposes. Health comes from within! It is your nature.
Eat live raw locally grown fruits and vegetables as much as you can. Create your healthy, sustainable life around fruits and vegetables.
Eat most of your food from fruit! 80+% if you can! Your fruits are the most astringent, most alkalizing, most powerful detoxification foods that exist on the planet. Your body is designed to eat fruit. You are a Frugivore!
Begin and end every single day of your life thinking about what you want and not about what you don't want!.

Dora was able to drop 50 pounds in 12 weeks after her 3rd child following an organized exercise and nutrition plan.

It would be safe to teach that the GENEROUS USE OF PURE WATER both within and without the body has never yet done any harm; that the functional ailments that afFlict the great host of mankind, are in a great part due to the fact of the imperfect elimination of waste matter, and that GENEROUS LIBATIONS OF PURE WATER is a most potent agent TO FLUSH THEM FROM THE BODY, through the skin, the lungs, the kidneys and the bowels. The diseases caused by impure water are numerous and fatal." —Dr. Arthur R. Reynolds, M.D., Health Commissioner of Chicago, from "Distilled Water and Longevity" by Elmer Ellsworth Carey, Chicago, in Suggestion magazine, Volume 10, January 1, 1903

Get back to your exercise program. Take a full-body, functional approach to your health and wellness. Get involved in a core training program. If you don't use it you will lose it! Exercise in an organized manner. Push yourself outside of your comfort zone. Make a minimum committment to Four 30 minute training sessions each and every week!
Make your self accountable to someone. Share your goals only with people who have your best interest at heart. Putting your hopes and dreams out into the world begins to bring them to reality!
Drink ONLY purified water. Water that has been through the distilled process or water that has been through the process of photosynthesis. That means only distilled water or the hydration you get from live raw fruits and vegetables.
Watch the video below when you get a chance. If you have any questions or reservations about any of the information shared in the list above just send me a personal email if you would like to discuss any of them: john@hiendfitness.com. Let me know which points you would like to discuss. Let's arrange a short information call so I can share the truth and shed some light on a better understanding of ANY statement that I have made above. If you would like to extend your life, your energy your vitality and look and feel your very best for the remainder of your life take action on these items straight away! Send me a text message here: 905-512-5421 or register for a free transformation Session below!
Get Started With A 12 Week Body Transformation
Dora and I like to get our clients started with our 12 week Body Transformation Program. This is a motivation, nutrition, exercise, accoutability and coaching program designed to give you everything you need to change your life.
Everything you need to lose 15-40 pounds
21 days Rapid Fat-Loss nutrition
30 day detox in a box nutrition
Customized nutrition
Start up weigh-in and measurements
Weekly weigh-ins
6 weeks follow up measurements and coaching meeting
12 weeks Professional coaching and support
Motivation and Accountability
12 weeks personalized exercise program
24 hrs on-line support
2-4 semi private full body functional training sessions each week with a Pro trainer
Toned up, refocused, energy supercharged, clear head, repaired self esteem, pain free, improved range of motion, improved balance, reduced body-fat, a wonderful nights sleep!
All Valued At $500/Month
Initial visit incentive… Buy two months and get 1 month totally free!
After your first 12 week introduction program we can arrange a maintenance program if you would like to continue.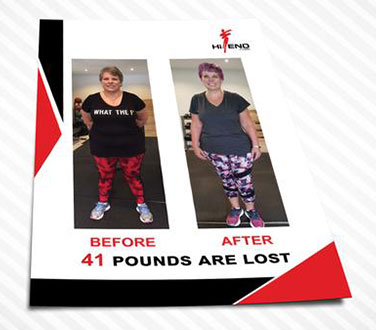 Karen Above Lost 41 Pounds This Year!
Jessie Below Is Down 24!
Are You Ready To Make A Change?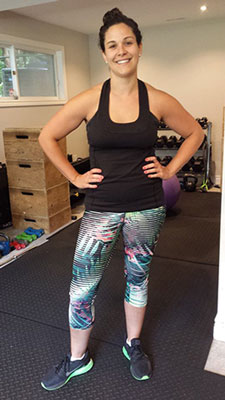 Rapid Fat-loss Nutrition: People always tell me they eat well. I always say… What does that mean? The best way to evaluate what's going on with your food is to do some personal calculations and follow up with some food tracking. The first 21 days of creating your personal ideal nutrition plan is spent tracking your food and making sure you fall within your customized nutritional boundary. AFTER our initial assessment I will have the data required to establish your individual nutritional boundaries. I can tailor your calories and micro-nutrients to make sure you are consuming what is most appropriate for you and your personal daily activity level. Tracking your food teaches you what you're actually eating as opposed to what you think you are eating. It also holds you accountable to us with your nutrition. Each week you will weigh-in on our scale. Accountability is an enormous part of creating change in your life.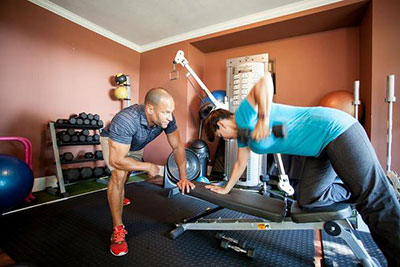 30 day DETOX in a BOX: Are you one of those people who has just tried it all and not been able to lose weight? If this sounds like it could be you then Detox in a BOX will be your solution. Let's slowly and progressively eliminate foods from your diet to establish what's cauaing toxicity in your life. We need to establish the foods that really work best with your system. Get 30 days digital content and information. Live recorded seminars, at home workouts, yoga, coaching and guided meditation. Get the personal support and encouragement you need to stay on track with your nutrition this time. Be accountable for 30 days as your body slowly rids itself of unwanted organic and inorganic matter. Raise your energy and center yourself with the goal setting, energy lifting yoga postures, guided meditation and mindfulness aspects of the program.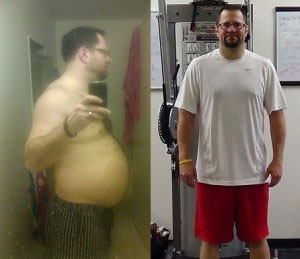 Scott Lost 37 Pounds In 90 Days!
Customized Nutrition – 30 days of choosing what foods are really the best for you. We'll meet for a personal counselling session to discuss your food and your choices. Let's build your personal nutrition program. Your favorite foods that provide you your best energy and enjoyments for your lifestyle and your schedule. Everyone has personal foods that they just like. We all have some habits and behaviors we need to change. Foods or substances we need coaching and or encouragement to manage, reduce or eliminate from our lives. Boundaries are necessary for ALL things. Let's clearly identify and outline what is best for you.​​​​​​​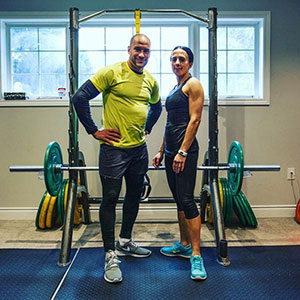 Semi private training sessions – Both Dora and I in the picture above have been pro trainers for over 20 years. Join in for your semi private training sessions with us. Surround yourself with people who are doing the things that you are. Be around other action takers. Get around like minded people that will create a positive social network for you and your goals. Exercise in a semi-private style to get your personalized program, motivation and encouragement. Do your personalized work around others who are doing theirs. Get your workout done at a scheduled time with a pro trainer 2-4 times each week. Early morning, late morning, mid-day, afternoon and evening times available 6 days each week.
Get Registered Below For A Free Transformation Session. Let's Start With A Short Discussion About Your Goals And See If It's A Fit For Our Program And Our Schedule.
If We Can Find Some Allignemnt Then We Can Arrange Your Free Trial Transformation Session! Register At The Appropriate Link For You Below.